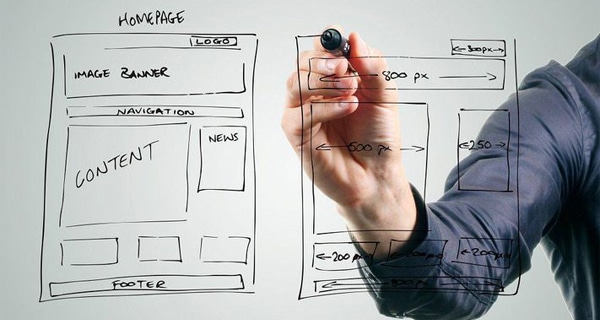 CREATING A BUSINESS BUILDING WEBSITE
The homepage needs to have immediate impact & tell the visitors exactly what you do and engage them.
Images you use must clearly portray what you do and avoid using "Stock" images. Use REAL images where you can
The words you use over the top must support the images

Clearly sum up what your business does
Must contain key words
Use a maximum 6-10 words

The average time for someone to decide whether they want to look further into a website is 8 seconds, so the image and text are vital in attracting visitors to look further into your website
You need to have content above the fold
Content above the fold simply means there is content that is visible below the main image and is important as the viewer will see this content as soon as the site loads
This enables the visitor to quickly make up his/her mind on whether to proceed further into the website
At least one "Call to Action" should also be placed above the fold
It is however important to check this on all screen sizes from small screen size laptops to larger Monitors
Statistically, websites with content above the fold have a lower bounce rate
Easy Navigation
Clean header that's easy to read. I prefer to have headers on a white background rather than over the top of the image as they are simply easier to read
Must have a "Sticky Header" that is visible at all times, even when you scroll down the page
Have multiple ways for visitors to find the important components of your site. In addition to the menu in the header have other ways to find these pages
Strong 'Call to Actions'
You need to tell people what you want them to do:

Call Now
Join Now
Enquire Now
Sign Up Here
Book Now
Buy Now

The Colour of these buttons is important as certain colours will have a higher conversion. For example statistically Red has the highest conversion rate
These Call To Actions can also be part of a Promotion and contain a larger group of text content
Sales & Promotions
Sales & Promotions on a website work!!!! They are also a great way to build a database as you can include contact and enquire forms within the promotional page. Some examples could be:

Get a Free Quote
Membership Specials
Get a Free Financial Makeover
Free Cyber Security Check
During the Month of January
Free Assessment
Discounts

Create some urgency by using cut off dates:

Ends January 31st / This month only etc
Testimonials / Reviews
Gives the Company greater credibility and adds Legitimacy
They increase conversion rates
People feel more comfortable buying something or selecting a company for the first time if they know many others have done so and had a positive experience
Video – More powerful than written testimonials
Google/Facebook/Trust Pilot reviews and you can feed these automatically onto your website
Getting testimonials from existing customers should be easy if they are satisfied with the product or service you have supplied
Must produce a purpose built mobile version
60% of all website visits are via a mobile device
Need to have text that is clearly legible on mobile
Less text and content to avoid a long scroll
Keep the important elements but shorten the messages
Must have "Live" clicks for phone and email and other weblinks. There is nothing more frustrating than NOT being able to click a phone number on a mobile phone
Many of the sites we build have a "Floating" call Now button
The Website colour scheme is vitally important!
Colour Psychology is vitally important when targeting specific groups as they will tend to prefer certain colours over others. If you want to appeal to a particular group you need to incorporate those colours into your website
Considerations to take into account:

Gender
Age
Brand Positioning
Industry Type
On Page SEO to be Google compliant
In the back end of your website you need to implement a number of critical "On Page" SEO that are linked to your key words to enable Google and other Search Engines to find your website when searched:

Meta Title – 70 Character Description of the web page
Meta Description – 160 character description of the web page
Text needs to contain Key Words
Headings need to contain Key word Phrases (H1 – H6)
All Images need to have Alt tags
Installation of Google Analytics
Image optimisation to ensure the site loads quickly

We would recommend installing Yoast SEO to assist with this process