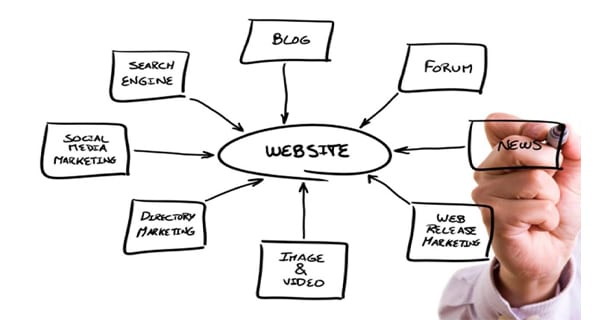 Then like a bolt of lightning, the man I admired (and feared) the most – my boss and my mentor – stared at me and screamed from his office, "Come Here!". Like a little boy ready to meet the principal, I rose from my desk and slithered into his office ready to take the punishment I knew was coming.
He looked me in the eyes, threw a crumpled up brochure on his desk and simply said, "You know what son? Brochures don't sell things, People Do" he ended that quote with "Now get out of my office and start selling and stop being a representative of Sam the Printer"
He also banned me from the cupboard that contained the brochures. It was scary and tough but I tell you it changed me so fast and I sold more than ever from then on and I enjoyed a great lifestyle all because I stopped the glossy brochure routine and started asking buying questions.
So how does this walk back in history, motivational gem of a story get us back on the subject of websites? Well, your site is a salesperson for your Company, so we have to take a look and ask ourselves: Does it ask buying questions, or is it really just a brochure? Pretty to look at but really people just smile say thank you and walk away until they find another that asks them the, "Do you want to buy today?" question.
Yes, sites have to have a sensational first impression and that is why we design Customer Attraction Program, but looking great at a party doesn't mean you will be popular! You have to do something, talk to people, ask questions and then you will leave an impression.
So what's the missing link?
Take a good look at your site right now. Does it look great? have Awesome images, videos, super relevant content, uses an easy to read font? Does it show all your products, services in a fashion that you are proud of? If you a restaurant, does your mouth get all mmmmmm when you look at the menu and the images? When you're all excited, ready to book or buy is there a button ready and waiting for you to press and instantly like you're in a trance enter your credit card details?
Is there a Call to Action? As that's the missing link.
Call me, Buy me, Book me, Find me, Carrier Pidgeon me. Is there one or is there more Call to Actions when you have the buyer or booker ready willing and able to spend cold hard cash?
If the answer is Yes? Well done your website is a Salesman, if the answer is No? Better get rid of the Brochure and call Trilogy Web Solutions !!!