Live Free or Die Hard" what a movie! Bruce Willis playing John McClane, the super scene where he launches a police car at a helicopter full of bad guys and then he gives the classic one-liner, "I ran out of bullets."
It's a great movie, old school John McClane versus a super geek who is trying his best to use the Internet to destroy the USA as we know, and he almost does except using brawn and brain, John McClane once again saves the day.
In one scene, the IT Guru, who is the bad guy explains to McClane why he will win and why evil will overcome good and he drops the classic line, "John, you're a Timex watch in a digital age."
What was his point? Well basically, John McClane who even struggled to use a PC was no match for the digital world fight he had on his hands with an IT Guru who could use every online tool in his arsenal to make absolute destruction.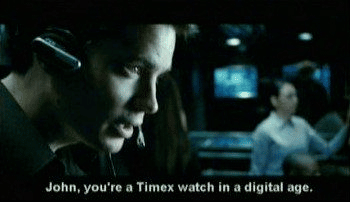 So why did I use this super famous movie quote in this month's blog title?
Well, according to some social media digital players, our good old business websites are Timex watches and, with all you need is a Facebook page, Twitter, and Instagram to rule the world.
Hmmm, well I'm here to tell you, folks don't go buying that idea, your website is more important than ever.
Why? Well, Facebook just made a major change in an instant and it's going to be so hard to get those posts you relied on so much to get shared all over the planet on the future customer's news feed.
Yes, the major digital watch (Facebook) decided that an old Timex principle was important, that being community, family, friend's news, in fact, it was more important than stuff posted to just sell stuff.
So, I imagine for those businesses that were sold on the social media is all the love you need for your business promotion are crying in their beer right now, yes, bit dangerous to have all your eggs in one basket, but there is hope.
Get to work, ask for help, and get that old website immediately back into tip-top google searching – customer exciting shape. Make some sexy changes, get it looking super special on mobile, create a call to action, give people a reason to buy and book from your site.
Get the keywords right, do some SEO work so Google can start ranking you in all the right pages.
As for Facebook, what will you do with that page? Well folks, that is going to require a total change in strategy and you're going to have to start sharing more love and caring and will cover that in our next blog. So, wind up that Timex watch, be excited and look forward to next month's fun blog on building a business community.