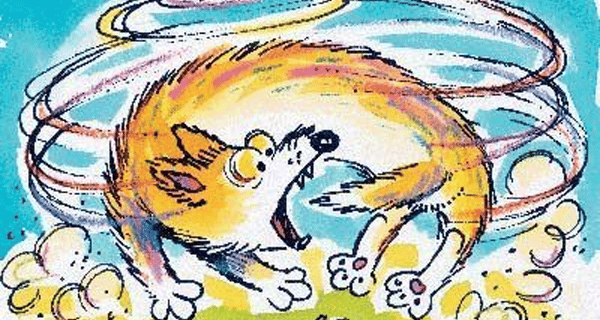 The Dog Chasing Its Tail only Digs a Bigger Circle
Strange title you may be thinking, well I thought about it for hours and it was the best description of what I want to cover in this blog, so what has a dog chasing its tail got to do with MULTI SCREEN DESIGN – Customer Attraction Programs or as some old schoolers refer to them as, "Websites"
So glad you asked that question LOL. Well when I'm having a build conversation with some clients I quite often get to a point where I sip my frothy cappuccino and start staring in the distance and vision a crazy puppy running around in Circles trying to catch its tail and all its doing is just digging a big circle hole, and often the puppy looks a lot like the client I'm talking to.
They will be telling me, I really need this look or I really need this picture, I really need this text, I really need this information, I really need all this stuff as it's important to, "ME"
Can you see the circle starting to build under the lovely and cosy swivel chair I am sitting on? It's all about "I" and "ME" no mention whatsoever about, "THEM" and who is them you may be asking? Well THEM is a very important part of any business, them are customers new and old, and they don't run around in circles when seeking to eat, drink, buy or enquire they run full steam ahead on a mission to secure there prize.
The circle is a problem with a lot of business owners when designing a new site, they really need to bury a little ego and self-promotion and get more into selling the Sizzle of The Business, focusing on what is going to drive customers straight to their door rather than straight ahead to someone else.
So how do we stop the running around in circles and digging a hole, how to make sure we are not being driven by, "I" and "ME" attitudes when looking at how our brand spanking new dynamic content site should make those potential customers be like little tail wagging puppies when they see it.
We should be driven by "WOW" or WHAT OTHERS WANT, that's the way to design a site and at Trilogy Web Solutions, we are the WOW experts!
Enjoy the day and remember there's NO SECOND CHANCE ON A FIRST IMPRESSION