Having a Call to Action (CTA) on your website's home page is vitally important for many reasons:
Conversion and Lead Generation: A well-designed and strategically placed CTA helps convert visitors into leads or customers. It prompts users to take a specific action, such as signing up for a newsletter, downloading a resource, or making a purchase. Without a clear CTA, visitors may leave your site without engaging further or taking the desired action.
User Guidance: A CTA provides clear direction to your website visitors, guiding them toward the next step you want them to take. It eliminates confusion and helps visitors understand what they should do to explore your offerings or benefit from your services.
Goal Alignment: The home page often serves as the entry point for users, and it's essential to align your business goals with user expectations. A well-crafted CTA can direct users toward the most valuable and relevant content or actions, helping you achieve your objectives while providing visitors with a seamless user experience.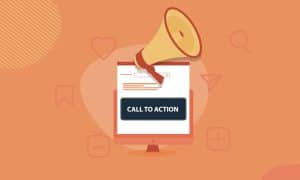 Improved User Engagement: CTAs enhance user engagement by encouraging visitors to interact with your website. Whether it's inviting them to watch a video, explore a product catalogue, or start a free trial, CTAs motivate users to take an active role in exploring your website and its offerings.
Enhanced Conversion Tracking and Analysis: By placing CTAs strategically, you can track user interactions and measure the success of your marketing efforts. The data collected through CTAs, such as click-through rates and conversion rates, can provide valuable insights for optimising your website and marketing campaigns.
Encourages Mobile Users: With the increasing number of users accessing the web through mobile devices, having a prominent CTA on your home page ensures that mobile visitors can easily identify and engage with your key offerings or actions. Mobile-optimised CTAs improve user experience and maximise conversions across different devices.
Remember to design your CTAs thoughtfully by making them visually appealing, using compelling copy, and placing them where they are easily noticeable. Additionally, ensure that your CTAs are relevant to your target audience and aligned with your overall marketing strategy to achieve the desired results. The Colour of these CTA buttons is important as certain colours will have a higher conversion. For example, statistically Red has the highest conversion rate.